You might know that I am normally a scrapper who uses lots of different kits from different designers when I scrap. My supply list is usually quite long and I get a thrill out of being able to combine tons of things that were not originally designed together and make them work. But today I thought it would be fun to give myself a challenge and - for a change - discover the joys of one-kit-scrapping. A lot of people do it and now I can see why.
Everybody can scrap with a collab with 500 items, right? So I chose a rather small freebie kit from Mirjam and decided to use every item in the kit - and nothing more (except for the fonts)! Her kits always have tons of stuff that is useful and somehow they always are exactly what I am looking for when I make a page, it's like magic! The kit I used is called "In the garden" and consists of all this: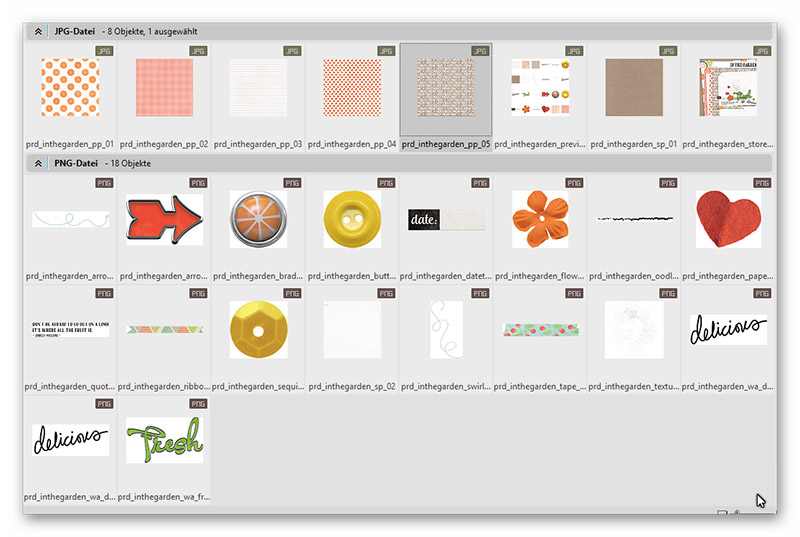 I chose a template to get started quickly. It was a free template made by Gaelle for a blog challenge in 2017 and I changed it a bit to accomodate three photos.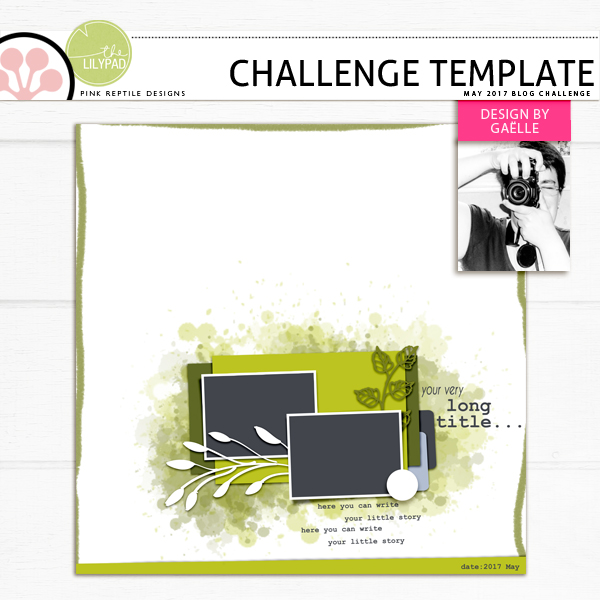 Once I had decided on the kit, the page was a piece of cake. I don't think I have ever completed a page this quickly. Of course, under normal circumstance I would have gone and looked for just the right this and just the perfect that, but as I was limited in my choices I just made do with what was there - and it worked out perfectly, don't you think? I used all the papers and all the embellishments at least once, some of them more often. In order not to have too many of the same things (I even refused to re-color) in my left border I cut out one fruit from a paper (the one paper I didn't use otherwise) and made my own paper embellishment.
This is my finished page. It couldn't have been easier.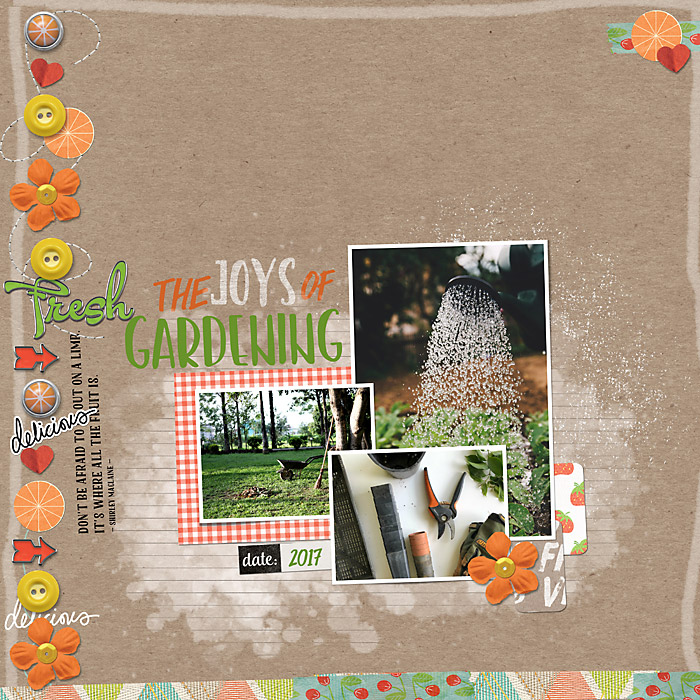 So, the joys of one-kit-scrapping:
* no analysis paralysis (as it used to be called on the daily digi). You use what you have and don't agonize over every little detail
* a resulting page with colours, papers and embellishments that go together without effort because colour scheme, style, etc. everything is already decided for you
* super fast
I will definitely use the one-kit-method again in the future when I am either pressed for time or my mojo is absent but I still want to get something done.
What about you? Are you a one-kit-scrapper or are you going all out with your supplies? What are your reasons for your scrapping method? Let me know in the comments.