Hello friends!!! Welcome to Febuary's blog challenge! We have a fun challenge for you this month. But Before we jump into all that, we need to announce the winner for January's Template challenge!!! You can take a peek at all the gorgeous entries
HERE
.
The lucky winner for this month is Bianka!!!
Congratulations timbenmami aka Bianka!!! You have a notification on your TLP account.
All other participants will received their 25% discount coupons via their Lilypad accounts in the next 24 hours. Please make sure you check your messages everyone and if your coupon didn't come through send an e-mail to pinkreptiledesigns at gmail dot com!
Here's Bianka's gorgeous page:
I don't know about you but after participating in The Lilypad's Month of Challenges, I need a relaxing & calming challenge after completing all 31 challenges in 31 days! So ... I thought it would be fun to just sit back and be virtual artists this month. Let's have fun splashing paints on our pages ... but of course without the mess and clean up of working with real paints.
Your challenge this month is to use 10 digital paints on your pages
. You can take the same paint and stretch it, layer it, recolor it, resize it, flip and twirl it, erase parts of it (you get the idea) .... or you can use a variety of different paints on your page. Gesso, splatters, watercolor, thick acrylic paints, glittery paints ... any and all paints are acceptable! If you are an artsy scrapper you can fill the page up with lots of colorful bold paint. If you are a clean & simple scrapper you can use shades of the same color and make the paints really tiny so you still have lots of white space. It's your page, so be creative and make those digital paints work for you!
Here are some ideas for how I used at least 10 layers of digital paints on a soft subtle page, a bold vibrant artsy page, and a clean white spaced layout. You can find more details about these pages in the latest of our series
Three Way | Paint Your Mood.
So to recap:
create a layout with at least 10 digital paints!
That's it ... have fun and we can not wait to see your beautiful creations!
Here are some gorgeous CT pages to further inspire you:
by diane
by rikki
by stefanie
by kate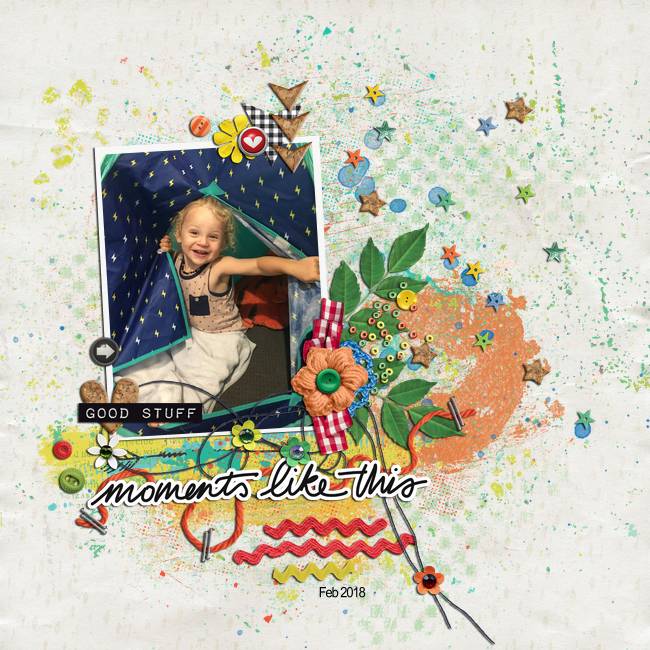 by gaëlle
Make sure you use
at least 75% of Pink Reptile Design products
on your page. Once completed, just upload your page to one or all of your galleries and
post a link to your layout in the comments section of this post
before the next challenge goes live on
March 15th
.
ONE
favorite page will be chosen as the winner to receive a
10 dollar coupon to the PRD store
, but really everyone is a winner,
as all other participants receive a 25% discount coupon
to the Pink Reptile Designs TLP store. So all the more reason to join in on the fun, right?!
Wishing you tons of fun and Happy Scrappin'!