Curious to see what my work space looks like?
Well in this post I'll proudly be showing you
my -not so long ago- pimped up scrap/design room and tell a little of what goes on in there!
Mac or PC?
PC
Coffee or tea (or both/neither)?
Tea! Although I really love the homely smell of coffee I don't like the taste of it. Original teas like Oolong, Jasmin and Early Grey are my favorites, and I drink my tea black.
Guilty pleasure snack while creating/scrapping?
I don't snack all that much but when I do I like to have cookies, chocolate or liquorice. See the small green canister on the right side of my photo [next to my jar with washi tapes]? That's where I keep my liquorice stash!
Favorite music to listen to?
I love all kinds of music from jazz, r&b to progressive metal. Some of my favorite artists are Marcus Miller, Anita Baker, Erykah Badu, Porcupine Tree, Dream Theater, Linkin' Park, Genesis, Dire Straits, Supertramp and Toto.
Your view from your scrap space?
Right in front of me and on the right [while sitting behind the pc] I look at my self-made felt pin board with inspirational images I've pinned on it. Above the board there's room for a few layouts I've made and had printed on sticker paper and added on board. In this picture there's also a layout from a CT member. I change them all from time to time. To the left, next to the fishing moose, is a huge storage cabinet [you can see part of it in the bottom photo with the crochet horse], then a big window. Behind me is a low storage cabinet and shelves [shown on the left side in the bottom photo].
What software do you use to create with?
Photoshop CS5 and Illustrator CS5
Favorite photo editing tools?
I am still editing in Photoshop but bought Lightroom a little while ago and can't wait to play with it!
Favorite time to create (morning or evening)?
I love to create all day long actually. I am not a morning or evening person in that regard. I would create while sleeping if I could. While watching TV I crochet!! LOL!
Favorite thing about your workspace?
I love, love, love that I have my own space that is separate from the rest of the house. I also love all the cream and white which give me a perfect neutral base and makes my art, inspirational images and other knick knacks really pop. I also love that my room has plenty of storage space so it's easy to keep it tidy and organized. Everything has it's place and I always know where to find what I am looking for.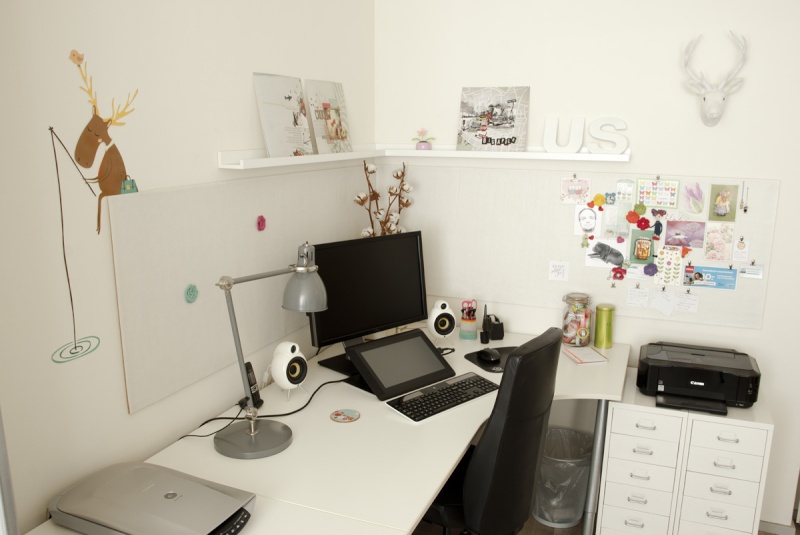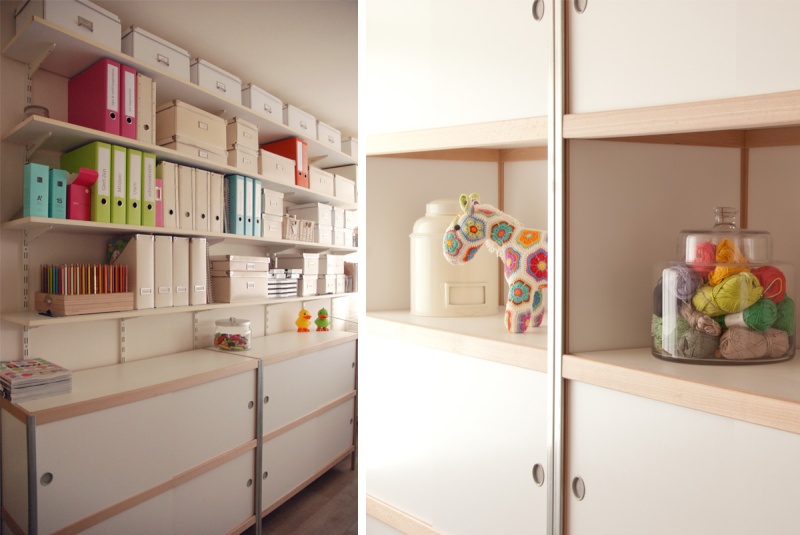 I hope you have enjoyed this little peek into my life of designing.