Hi everyone! Here we are at the last month of the year. Incredible how fast 12 months goes by! For our last
Three Way series
post,
where we show you creative ways to use and stretch your stash,
for the year 2017 ... I wanted to share with you an Anthropologie Ad that I was inspired by. I loved the different ways they matted the photos and thought this would translate well to scrapbooking.
Here's part of the AD from Anthropologie that made it's way into my inbox:
I took the awesome inspiration from the Ad, and scrapped one photo 3 different ways with fresh photo mat ideas. Take a look:
1. The first example has a strip of solid paper under the photo and as a photo corner at the top. It uses white space to make everything pop. A small typewriter font is used for a title or details about the photo. And finally a little bit of word art is placed right over the photo as a way to add more text details about the photo. Here's how my first photo mat magic page turned out:
2. The second example uses three different color blocks as the photo mat. I love this because I am one who almost always uses a white border around my photos, so this idea gave me an opportunity to push myself to use color. I kept the striped color blocking look for my page, but it would also look good if the photo mat was done in different shapes - say triangles maybe? And I really love the idea of adding text details in two colors with a little arrow between them. Fresh and fun! Here's my page: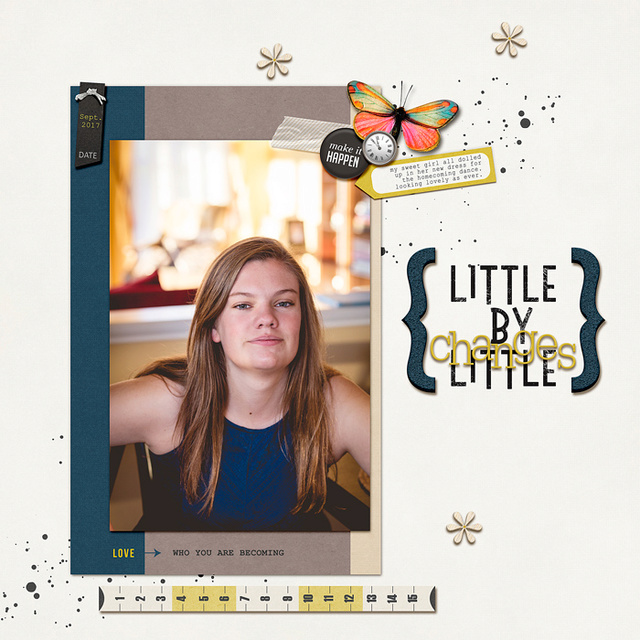 3. The third example uses a piece of diagonal striped paper with some torn edges. To make my own, I used a torn piece of paper from the
Make a Change collab
. I selected it (marching ants around it), aded a new layer, and on the new layer, I filled the torn paper selection with a white fill. I then drew a rectangle to the full size I wanted the diagonal striped paper photo mat to be and filled that with white. I placed both layers so that they lined up nicely and then I merged these two layers creating a custom made photo mat with a nice torn edge near the bottom. I clipped some striped paper to it. I used a handwritten font and applied a distressed stamp look style to it for the title. I finished off the look with a tiny stamp detail. Here's my final page: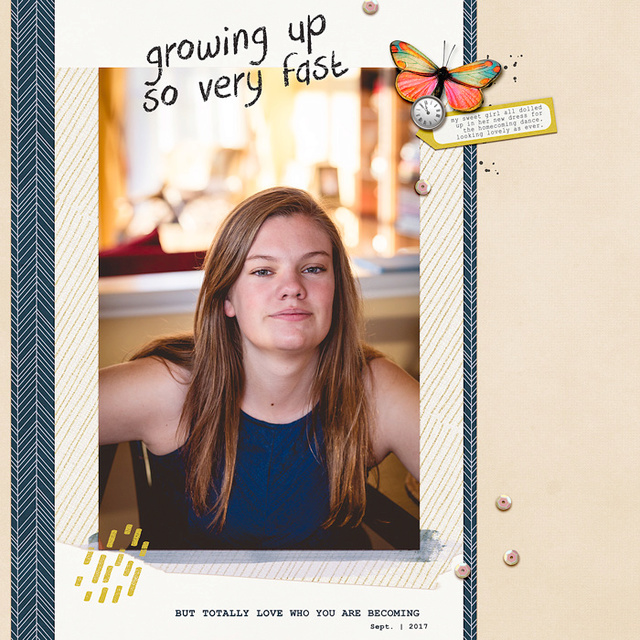 What do you think? Did Anthropologie deliver some awesome photo mat magic or what? I had so much fun trying these ideas on my pages. So don't forget to eye up your inbox contents for possible scrapbooking inspiration before you hit delete. You never know what may inspire your next page.