Hello friends! I have another edition of our
Three Way series,
where we show you ways to stretch or use your stash in creative ways,
to share with you today. The topic is pattern papers. So many of us tend to use pattern papers sparingly or maybe we grab a template that uses them as layers of rectangles or squares behind our photos. But there are so many more ways to get creative and throw splashes of colorful patterns on our pages. Let's take a look at some ideas I have and then maybe you can generate some of your own.
ONE:
The first idea for using more patterns on your pages is to pick one type of pattern and really go all out. For mine, I chose to work with stripes. I picked three different stripes with different colors and put them on my page. I love the impact this creates. Yet the page is not overwhelmingly busy because your eye is only comprehending the one pattern. I did sneak in a tiny polka dot in red too, but it's such a small pattern that it almost acts like a solid. To finish off my page I gave the whole thing a bit of a white border with a solid white paper. It allows the eye a bit of a rest. Here's my take on working with just one pattern all over my page: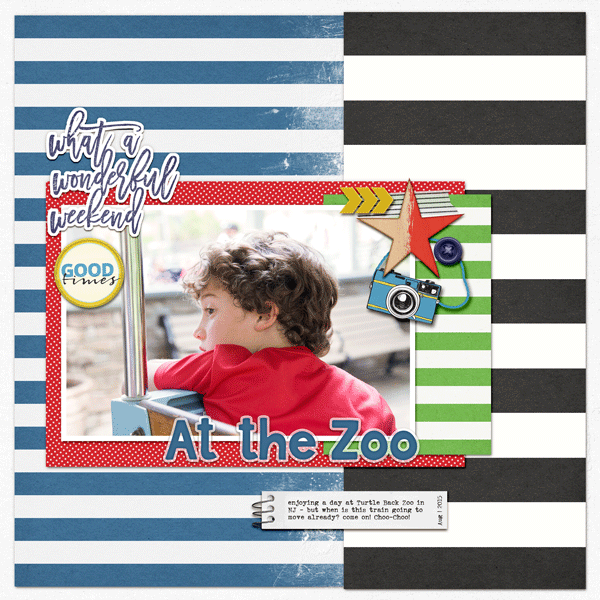 TWO:
The next idea I want to share with you is to take one bold pattern and really work it. I grabbed a huge dot paper and used those dots as a design element on my page. I cut some of the circles out and this allowed me to create interest and also layer another pattern (but on a small scale) underneath my huge dot paper. I love the little bit of text paper peeking through! It really matches the theme of my page. To further work the big dots on this paper, I grabbed some fun circle word arts bits that also fit the theme and placed them around each cut out. Here is how my page turned out when I really played up that huge dot patterned paper: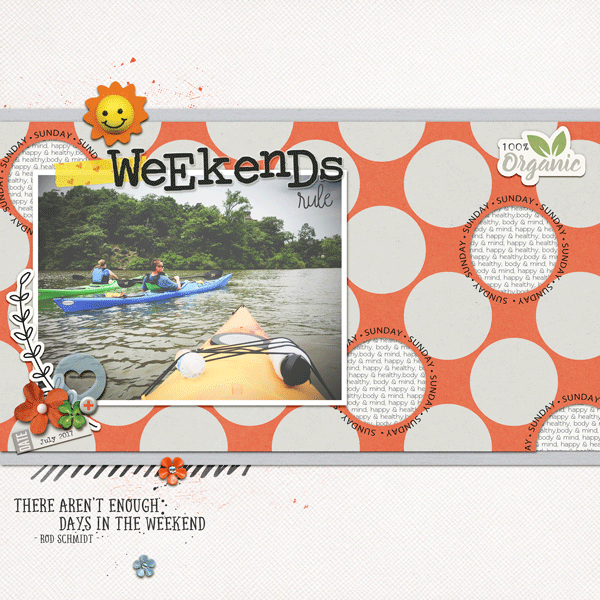 THREE:
The last idea for playing with patterns is to use them as repeating elements on your pages. I grabbed a bunch of flowers (plastic, paper, realistic ... any flower with a nice shape will work) and simply clipped different patterned papers to each of the flowers. I added button centers too. I clustered them all near the top of my page and love the way all that color and pattern looks on the page. And because those flowers full of patterns are in one area, it is not overwhelming to the eye but evokes a feeling of whimsy and playfulness that is just perfect for that sweet moment of my kids sharing their flavors of ice pops with each other on a carefree summer afternoon. So peek through your stash and see what shapes besides flowers speak to you. Any element can work: from speech bubbles to clouds, paper tickets to word art ... as well as any other shape that fits your page theme. Here is my final page full of pattern: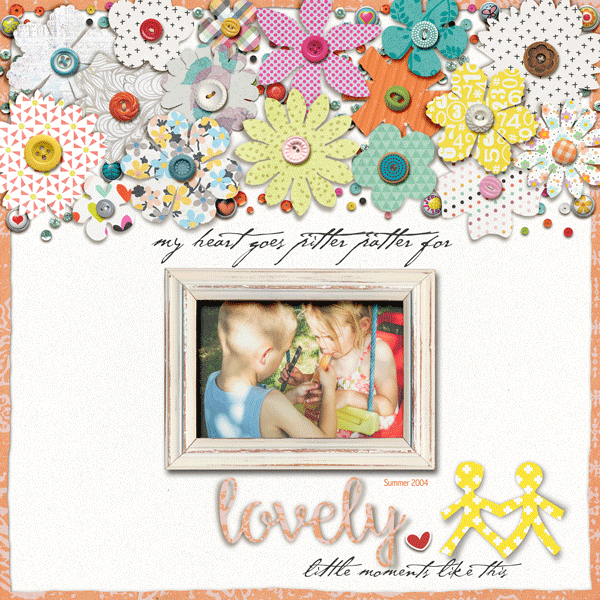 So, are you ready to break out of the rectangle patterned paper layering box and work those patterns in a fun new way on your page? Every kit comes with so many beautiful patterns it is a shame not to use them to the fullest!