Hello! Welcome to the February Blog Challenge! Whew! January was a crazy month if you were hanging around TLP and played along in the MOC. How many of you finished? If you jumped in and did even just one MOC challenge page, you should go ahead and give yourself a big pat on the back! And speaking of pats on the back, let's see who the winner for January's template challenge is!!! You can take a peek at all the amazing entries HERE.
The lucky winner for this month is Frumpje!!!
Congratulations Frumpje!!! You have a notification on your TLP account.
All other participants also received their 25% discount coupons via their Lilypad accounts. Please make sure you check your messages everyone and if your coupon didn't come through send an e-mail to pinkreptiledesigns at gmail dot com!
Here's Frumpje's gorgeous page:
For this month's challenge we be using the latest
Three Way series Easy as Pie
as our inspiration. To play along you need to incorporate a Pie Chart on your page in some way. How you do that is totally up to you. You can use one of the
Three Way | Easy as Pie
ideas. To recap:
1. Clip papers, paint/brushes, or photos to your Pie Chart and document a Fave or your "Currently"
2. Use elements from a kit to make your Pie Chart
3. Use a Pie Charts as an overall design element on your page
Or you can come up with your own idea for using a Pie Chart on your page. That's it ... this rest is up to you!
And we also included a little
Pie Chart Freebie
for you to download and play with on your page if you chose to. I cannot wait to see your creative Pie Chart pages!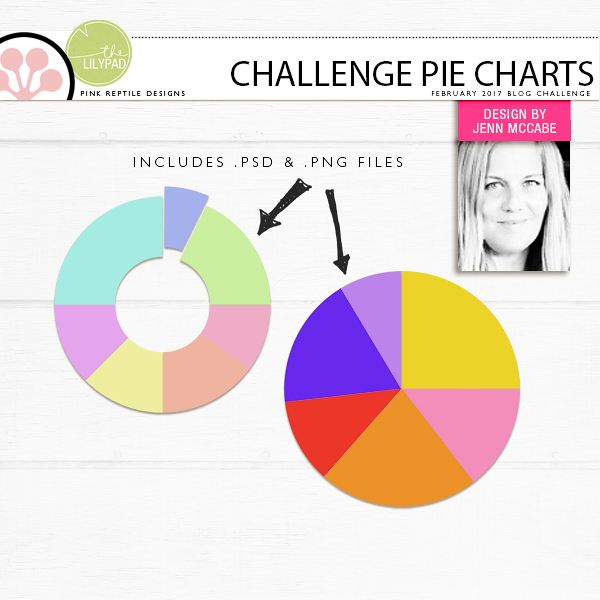 LINK EXPIRED
Take a peek at these stunning pie chart pages by the Pink Ladies:
by Diane
by Ellen
by Mirjam
And one using the Freebie Download
by Karen W
Another page ... with the Freebie pie chart made into a background paper
by Annemieke
Can't wait to see your pages with Pie Charts!
Make sure you use
at least 75% of Pink Reptile Design products
on your page. Once completed, just upload your page to one or all of your galleries and post a link to your layout in the comments section of this post before the next challenge goes live on MARCH 15th.
ONE favorite page will be chosen as the winner to receive a
10 dollar coupon to the PRD store
, but really everyone is a winner, as all other participants receive a 25% discount coupon to the Pink Reptile Designs TLP store. So all the more reason to join in on the fun, right?!
Wishing you tons of fun and Happy Scrappin'!