If you are like me, you don't tag. It's enough to just get the digital products organized in their proper folders, the photos uploaded on the computer, and then imported into Lightroom. I've never been a digi scrapbook supply tagger. And as such … I truly struggle with finding everything in my digi stash.
I don't have any magic trick to get you to be able to easily find anything in your entire stash … but I do have a few tips to consider when you are completing all those designer challenges (the ones that require a certain percentage of a specific designer's products).
What I do is use my computer's search engine. I'm on a MAC so I just pull up a Finder window and in the search bar I can start by typing in the name of the designer as it appears in their file names. Hopefully you are working with a designer that uses only one naming convention. Mirjam uses
prd
to start virtually all her files. Sometimes if there is a collab, then the other designer's pieces may be different but this will give you just about everything she makes. Some of the older, retired products may differ a bit in the naming convention. In either case … you can just change the name yourself by adding
prd_
to the front of the file name.
Now you might be thinking –
"Who cares? I put all my designer kits and products in a folder specifically for that designer anyway. How can this possibly help me find my PRD digital supplies faster?"
And while that is true, the trick here is that doing a search with
"prd"
will populate each piece in the Finder window …
meaning you won't have to open every file one by one to actually see what is inside
… it will all be visible.
Here is what it looks like when I go to my PRD folder with all of the PRD kits.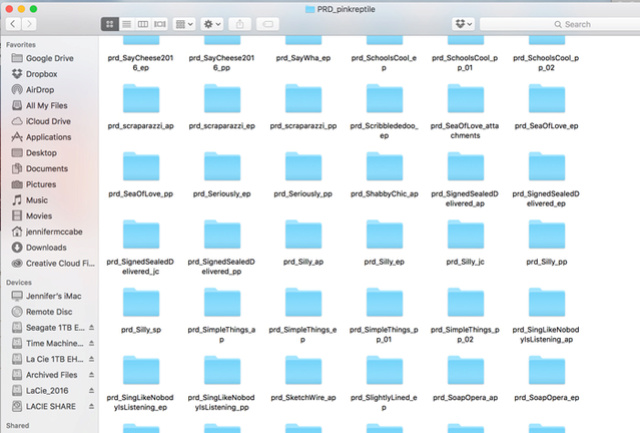 And here is what it looks like when I search for
prd
in my Finder window. See the
prd
in the search bar - top right?
The best part is if I've been a bad girl and have not organized my download folder yet and actually put all my new PRD kits into the PRD folder ... I can still see all my PRD stuff: both the stuff filed nice and neat in my PRD Folder and the new "yet to be filed" stuff that still resides in my download folder. I simply make sure I am doing a search for ALL MY FILES as opposed to a certain drive or folder. This even pulls my stuff off any connected EHD (external hard drive) as well.
You can also control how big your thumbnails are. So you can make them tiny if you are doing a quick glance for something or if you want to see the detail and patterns better ... you might make the thumbnails much bigger. Go to
View > Show View Options
and a little window will pop up where you can adjust that to your liking.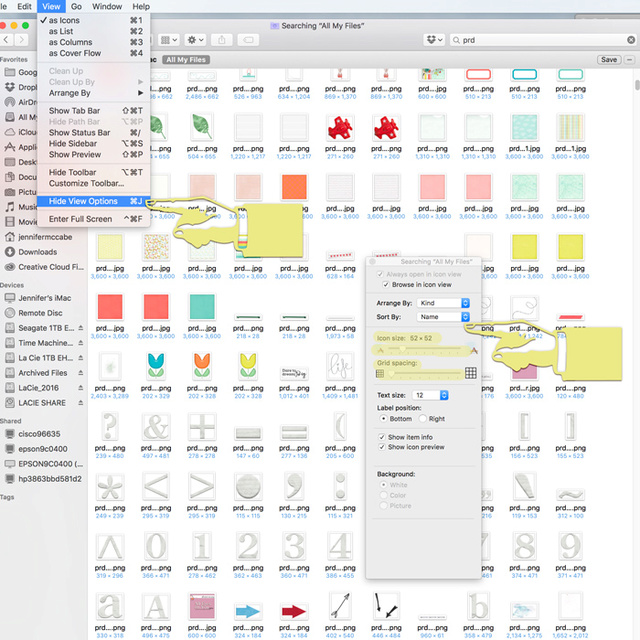 To further drill down within a designer file system of digi products – you really do have to spend a little bit of time studying their naming conventions. This will probably not help you find every red and white polka dot paper, but it will quickly allow you to scroll through the thumbnails so you can pick out the papers easily.
Here's an example: I know Mirjam names all her papers with
prd
and
pp
, so I can just type in
prd pp
and get a Finder window full of all of Mirjam's papers at a glance. Scrolling through to find a red paper or a woodgrain is easy peasy!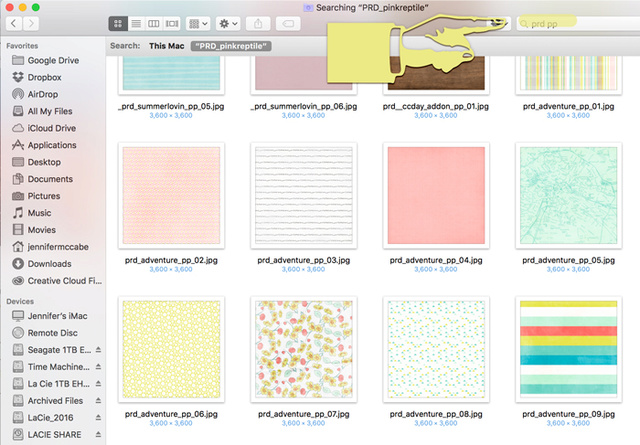 I use this to quickly see all of Mirjam's alphas too. I pick a letter than isn't in most file names ... like "z" or "q" and type
prd z
because I know Mirjam names her alphas with prd a- z. Searching with
prd Zz
also works to find all the Alphas that have upper and lower case letters available in the alpha pack. I like doing this rather than typing in "prd alphas" because when you use the search term "alphas" you have to scroll through the whole alpha a-z (and sometimes upper, lower case, numbers and special characters!). Using just "z" condenses the search and shows just one example of each type of alpha - so just the letter Z for each alpha populates the window. Once you pick an alpha that will work, you can easily navigate to the kit folder with all the alphas.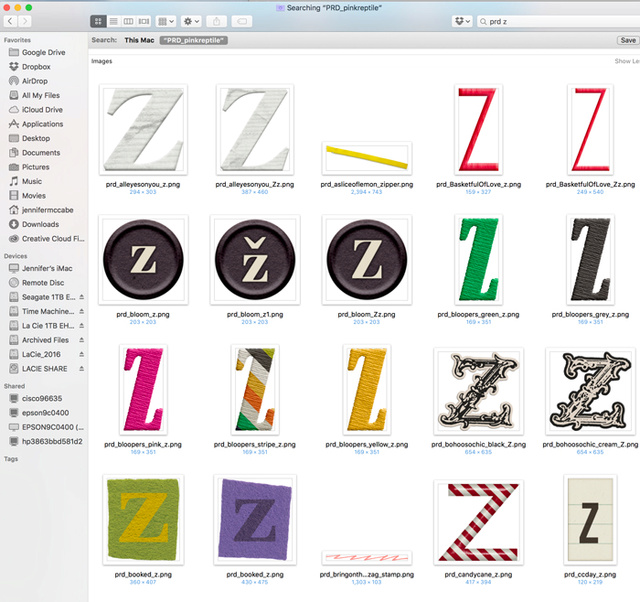 Now as you can see this isn't quite a perfect art ... a little red zigzag stamp showed up in my search for all the alphas because it is named "zigzag stamp" - but it is still a very convenient and fast way to find what you need for those of us who do not tag our digital supplies.
Other helpful hints ... if you are looking for a
brush, stamp or paint
type of element, these are some of the most common terms Mirjam uses to name those elements in her kits:
stamp
transfer
paint
brush
splatter
texture
doodle
mat
Word Art
pieces are usually:
wa
quote
wordstrip
wordbits
dymo
bubble
So ... spend a little time getting to know your fave designer's naming conventions and utilize your Finder window on a Mac or Explorer window on a PC, so the next time you sit down to create a page for a designer challenge you can find what you need FAST! I bet we can all agree, having more time for scrapping is a GOOD THING!