Woohoooot! Yup..... I am!!
Head on over to the
Scrap Stack blog
and learn more about me, grab a special discount coupon and maybe even win 10 dollars to my store!
Being a featured designer means that I made a kit for the January Scrap Pack too.
Apart from my kit [that's shown below] this months Scrap Pack also contains a kit by Heather Roseli, Ginger Scraps and Southern Serenity Designs.
You can add
all four
of these amazing products to your stash for
just $5.00
at
Scrap Stack
!
pages by anja, céline, manuela and carrie
I am not just here to talk about my AMAZING feature but also because I want to show you some AMAZING hybrid projects.
As most of you probably know, I started as a paper scrapper in 2004. Then I got this audacious idea to go back to school in 2009 and specialize in Human Resource Development. Now I don't know about you but when I am paper scrapping my whole desk is filled with scraps of paper, glue, paint, embellishments and what not. Being back at school in my case meant more traveling, following courses and lots of homework since I was trying to do it with just 1 day school and the rest home studies. You probably already get it, doing homework on a desk filled with clutter simply does NOT work. That's why I decided to give digital scrapping a try and I fell head over heels in love with it! So many new techniques to discover!
Now in 2014 it is my intention to combine paper and digital and have a go at hybrid.
A few weeks ago, starting November 26 to be precise, I showed you part 1 of Géraldine hybrid Christmas Album and December 3rd the second part where the album was all finished and ready for the photos to be added during the month.
In this post you can see part 3, which is the finished album but let me show you this beautful hybrid page she made first.
Géraldine first created a background with her photo editing software in A4 format so she would be able to print it on her home printer
The background was created with two masks [masquerade vol.2] and two differents papers clipped to them. Then she added a wordart [Simple Things]
and put a coloured square to indicate where the picture would come. Then she printed the page on white cardstock plus she printed a few papers and some elements to embellish the page with.
Glue was used to attach all items except for the 'love' tag and orange flower for which she used 3D foam to create depth. A little skein of thin black wire was added as a finishing touch!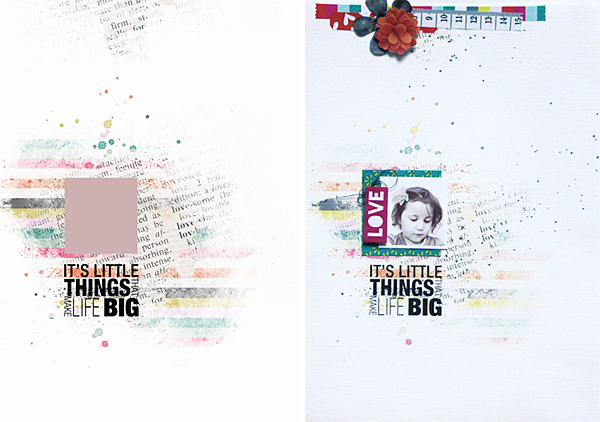 left the digital page and right the printed and embellished hybrid page
paper page detail


After finishing the bare album as shown in part 2, Géraldine started adding photos as the December month unfolded. As said she didn't just want to capture Christmas but the whole month of December including the Christmas preparations and gifts but also the everyday life things like a beautiful sunset over vulcanos captured on the way back home form work and the fact that her kiddo's had the chicken pox.
She chose one photo per topic: the Advent Calendar, the making of the gifts, paper craft decorating, making a paper Santa, baking cookies, the beautiful sunset, the Christmas tree, opening of the gifts, the chicken pox and she completed her album with a mosaic of photos of the children taken on Christmas Day.
Once the photo's were glued to the pages she added some extra embellishments and with black ink wrote her journaling and page titles and drew a frame around them.